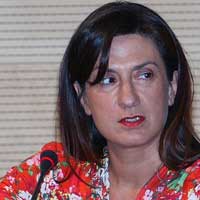 Giannisi Phoebe / Professor
ARCHITECTURAL DESIGN AND CULTURAL STUDIES
Biography
 Associate Professor. Born in Athens. Studies: Architecture, National Technical University of Athens (1988); PhD. in  Languages, History and Civilisations of Ancient Worlds (Langues, Histoire et Civilisations des Mondes Anciens), University of  Lyon II-Lumière (1994).
Monographs: *Classical Greek Architecture: The Construction of the Modern*, (with A.Tzonis), Flammarion, (Paris, 2004, also edited in french and in german) and *Récits des Voies, *Editions Jérôme Millon, (Grenoble, 2006). She has also published 6 poetry books. Ηer book Ομηρικά (Κέδρος: Athens, 2009) has been published in German (translated by Dirk Uwe Hansen, Reinecke und Voss: Leipzig, 2016) and in English (translated by Brian Sneeden, World Poetry Books: Storrs, Ct: 2017). 
Research interests
Embodied Subjectivity, Space and Poetics, Poetry, Material Culture and Space, Cultural Studies, Post Human Studies and Poetics,  Ancient Greek Poetry and Poetics of Performativity
Courses in current academic year

Introduction to Architecture I
Introduction to Architecture II

Space and Poetic

e-mail
fogianni

arch.uth.gr
Artwork
2016, ΗΟΜΕRΙC TETTIX. Performance at the Book Launch: Austerity Measures (Penguin, 2016).. Columbia University. The Heyman Center for the Humanities. Wednesday, April 20, 2016  6:00pm  

2016 - 15/10/2016, NΟΜΟΣ_ΤΟ ΤΡΑΓΟΥΔΙ ΤΗΣ ΓΗΣ. Περφόρμανς. Συμμετοχή στο Onassis Festival NY 2016, Antigone Now. Onassis Cultural Center New York. 

2015 - 12/6/2015, "Kernos: a plate for all". Food and audio installation. Oscar Schlemmer's house, Bauhaus, Dessau: "Householding, 2015" curated by Regina Bittner, Elke Krasny. With Zissis Kotionis. 

2015 - 6/10-8/11, PATRIS II, 2015. Site specific installation. Group exhibition. "In the name of Le Corbusier", Spiteris House, bathroom. Curated by Fanis Kafantaris, Panayiotis Tournikiotis. 6/10-8/11/2015. In collaboration with Zissis Kotionis.  

2015 - 22/10/2015, AIGAI_Ω. Songs. Exhibition at the Museum Aggeliki Chatzimichali. Athens, 22/10/2015-20/11/2015. With Iris Lycourioti.

2012, Tettix Performance I. Curated by Susan Gevirtz. Eco-poiesis. San Francisco. 
2011 - 2011,  In vino veritas. Dionysus Tub. Performance and Installation at Plato's Academy.  
2016 - 2016, Visiting Associate Professor. Department of Art History and Archeologhy. Institute for Comparative Literature and Society. Columbia University
Undergraduate Diploma Projects Supervision

Undergraduate Special Research Topics Supervision

Exhibitions
2015 - 2015,  "KERNOS: ONE PLATE FOR ALL". Sound and food/edible installation. Artistic Contribution for the Haushaltsmesse 2015 in the Shlemmer House. Bauhaus Dessau. (with Zissis Kotionis).
2015 - 2015,  "PATRIS II, 2015". Site specific installation for the Exhibition "Στο Όνομα του Le Corbusier", (In the name of Le Corbusier), House Spiteris/Proveleggios, Athens, 6/10-8/11/2015.  Curated by Fanis Kafantaris, Panayotis Tournikiotis. (with Zissis Kotionis).  

2015 - 2015, ΑΙΓΑΙ-Ω. TΡΑΓΟΥΔΙΑ. AIGAI-O. SONGS. (with Iris Lycouriotis). Exhibition at the Centre for Folk Art and Tradition Angeliki Hatzimichali. Athens. 22/10/2015 - 20/11/2015.
2012 - 2013,  TETTIX. Landscape-Poetic Installation at Media Lounge of National Museum of Modern Art. Athens.