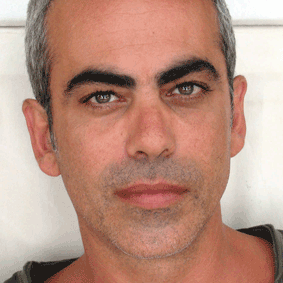 Psychoulis Alexandros / Professor
Biography
Alexandros Psychoulis was born in Volos in 1966 and has studied painting at the Athens School of Fine Arts. His first works are interactive installations, which are activated by the spectator and explore his subconscious, by decodifying his fears, desires or memories in images and sounds. The exploration of the virtual reality's territory has been up until now the central drift of his work, which is consisted by installations, animation and painting. In 1997, he has been awarded the Benesse Prize for his work "Black Box", with which he participated in the 47th Venice Biennial.
He has presented many solo exhibitions such us: The room, a.antonopoulou.art, Athens (2009), Mammals, Zina Athanassiadou, Thessaloniki (2005), Body Milk, a.antonopoulou.art, Athens (2003), Speak about your life in materials with no memory, Lionheart, Boston (1999), There's no place far enough for you to escape from images and the pain they caused you, Deitch Projects, New York (1998).
Research interests
Αrt & Τechnology
Courses in current academic year
Visual Arts I
Picture - Sound - Multimedia
The mechanism of the dream
Art and Contemporary Technology

e-mail
psycool

uth.gr
Telephone
24210 74264
Artwork
2018, The Ruralists, γκαλερίa.antonopoulou.art, Athens 

2017, Back to basics:Text, γκαλερίΕΝΙΑ, Αθήνα

2017, Antiquidia,  gallery a.antonopoulou.art, Athens

2017, ADIDORON, Documenta14, Fridericianum, Kasel

2017, New Projects, EMST, Athens

2016, MANIFESTO of happiness, solo exhibition, "δ"gallery, Volos
2016,  Geni Losi, Petersburg, Russia
2016, CHAPTER II, CASK gallery, Larissa, Greece
2016, Relatives diversities, "δ" gallery, Volos, Greece
2016, 33 Years! Zina Athanassiadou  gallery, Thessaloniki, Greece
2016, Collective dizziness Protocol, Zina Athanassiadou gallery, Thessaloniki
2015,  COMPASSIONonthephenomenologyofbeingill, KunstquartierBethanien, Berlin

2015, KENOPHOBIA, CAN Christina Androulidaki gallery, Athens 
2015, RenaissanceStories, Athen's Festival, Pereos 260, Athens, NEON


2015 - 2016, Goethe's Dream,  Goethe Institute, Thessaloniki, Greece 

2014, Cascando, Gallery KASK, Λάρισα
2014, PLOES XX/ Living real, Kydonieon's Foundation, Andros
2014,  Staging the domestic, The Hospital Club, London, curated by Anna Chatzinassiou
2014, The Symptom project, Old Hospital, Amfissa

2014, "FOR WE CAN NEVER TALK SERIOUSLY (The Girl's School of Volos)",  a.antonopoulou.art, Athens

2013, Ιrrational narratives,  AD gallery, Athens

2013, A great deal of questions without any answer, a.antonopoulou.art, ReMap4, Athens
2013, C.P. Cavafy PAINTED, B & M Theocharakis Foundation, Athens 
2013, Medium as Narrative, CAMP,Athens

2013, «Ghetto Palm», Salon de bricolage, Athens (Solo exhibition)

2012, LOGOTHERAPY,dezaar/PROTOTYPES, Athens

2012, "APHRODITE 2012: sacred and profane purifications". Bath-House of the Winds - department of MGFA, Plaka, Athens

2012, «God's Nails», a.antonopoulou.art, Athens

2011, THE LUMINOUS INTERVAL,Guggenheim Bilbao

2011, «AlienSpecies», DiatoposGallery, Nicosia

2006, "Me vima Argo" , Animation Graphics for a dance performance directed by Apostolia Papadamaki,  Volos
2005, 2005         BIDA Macedonian Museum of Contemporary Art, Thessaloniki
2000,  «Mediterranean Desert», Concerto for Piano, Harpsichord & Video, Music by Giorgos Koumendakis, Piano & Harpsichord Maria Metaxaki. Hellenic Center London, Hellenic American Union, Athens
1998,  «Two street stories», Video, duration 7,25', in cooperation with group of dance artists «Sine qua non», Open Theater, Athens
1992, «6th Biennale of Mediterranean Young Artists», Valencia, Spain
2017 - 2020, Teaching in the Postgraduate program "Post-industrial design"

2014, Eudemonia, Workshop, S. Nikolas monastery, Paou, Argalasti Pelion
2013, Metabolisms, Paw Pelion architecture workshop
2013,  M.U.S.H.ROOMS workshop, for the Food and the Architecture. Benaki Museum, Athens.
2011, TheFalseProject, Workshop,SPIDER, Michalis Kakogiannis Foundation, Athens. Curetting in collaboration with Giannis Arvanitis. 
2008,  8TH HELLENIC FASHION WEEK/ Art & Fashion Workshops.(Curatting). HellenicFashionWeek, Technopolis, Athens 
2008, TerritualPAOU, Workshop(Curatting).Argalasti, Pilio, Greece
2001, "Fax-Fatal" Workshop, Ecole Superieure D/Art Perpignan, France 
Undergraduate Diploma Projects Supervision

Undergraduate Special Research Topics Supervision

Monographs-Books
"Tsipoura in Volos" ,Nissos publications , ISBN: 9789605890964

2001 Pit Bull , Ed. ΟXY, ISBN 960-8068-65-7, ISBN-13 978-960-8068-65-0

1994 «The Ascension of Dionysios Solomos in Heaven», Alexandros Psychoulis
2007 Alexandros Psychoulis, TAGS. Futura editions, ISBN: 9789606654503

Book editing
2013 Βy-products, Athens Municipality edition
2013 Η Ελένη Ψυχούλη μαγειρεύει του καλού καιρού, Patakis edition, ISBN13 9789601649221

1999 Magic Software, 3M  Innvation edition
Chapters in edited volumes
2015, Alexandros Psychoulis, "The building as a meal", SYMBIOSES, ISBN:978-960-035966-4, pp: 66-69
2011 Vers Contre LC: 16+10 thesis for the Timeliness of Le Corbusier.   Gianisi P., Lykourioti I., Fatsea R., eds. Volos and Athens: Department of Architecture, University of Thessaly and Futura.
Conference proceedings
2008 From the street market in the hammam. Page 108. Alexandros Psychoulis. Virginia Αmphitheater. State Museum of Contemporary Art edition. ISBN 978-960-89041-6-3

Exhibition catalogues
2013 Irrational navigations, AD edition
2013    C.P. Cavafy PAINTED, B & M Theocharakis Foundation edition, Athens  ISBN 978-618-803224-3-9
2011 The Luminous Interval,  Guggenheim Museum Bilbao ·  ISBN-10: 0892074124
2011 The Ark: Old Seeds for New Cultures, 12th International Architecture Exhibition, Venice, Publisher: University of Thessaly Press
2009 The Room/  Fragility makes me special, a.antonopoulou art. edition
2009 Το όμορφο δεν είναι παρά η αρχή του τρομερού, State Museum of Contemporary Art edition, ISBN 960-9409-07-5

2006 PSYCOOGLEARTH/ shallows nest maker, a.antonopoulou.art.edition
2006 Tatoo My Art, a.antonopoulou.art edition
2006 An outing, Beltsios Collection, text by Bachtezis, futura editions
2006 Positive Charge, State Museum of Contemporary Art edition
2004 BREAKTHROUGH! GRECIA ,text by D. Zacharopoulos, K. Gregos, S.Pappa, Comunidad de Madrid
Ηola grecia, Arte Contamporaneo Griego, Hellenic Ministry of Culture Madrid
2004 38th parallel, Skironi Moseum Polychronopoulos edition
2003 GOING PUBLIC, texts by C. Zanfi & Y. Tzirtzilakis Silvana Editoriale Modena
2000 Synopsis - communications, National Museum of Contemporary Art

1997 BV 97 - La Biennale di Venezia. XLVII Esposizione Internazionale D'Arte, ISBN 8843561529

1994 Alexandros Psychoulis, Machinery-Free Industry
Others
2007 An unlikely book of contemporary art for children. Kalidoskopio. ISBN 978-960-7846-83-9

2008 Kaput art magazine. «NEW», Text & Flash Animation Alexandros Psychoulis

Exhibitions
2020, The garden that nurtured German Romanticism, "δ" gallery, Volos. Solo exhibition
2020, (Α,Ψ),(Γ,Τ),(Η,Π),  CASK gallery, Larissa
2020, Summer breeze, a.antonopoulou.art, Athens
2019, "Let's Supper Mr. Iolas- Resurrection", Iolas House, Αθήνα
2019,   Places of creation, tribute to Metsovo, Averoff Gallery, Metsovo
2019, Black & Blue, Fougaro, Nafplio
2019, The Swamp, CASK gallery, Larissa . Solo exhibition
2018, "Congenital differences", "δ" gallery, Volos
2016, MANFESTO OF HAPINEESS, solo exhibition CASK gallery, Larissa, Greece
2016,  Geni Losi, Petersburg, Russia
2016, Collective dizziness Protocol, Zina Athanassiadou gallery, Thessaloniki

2014, Ιrrational narratives,  AD gallery, Athens
2014, "FOR WE CAN NEVER TALK SERIOUSLY (The Girl's School of Volos)", a.antonopoulou.art, Athens

2013, A great deal of questions without any answer, a.antonopoulou.art, ReMap4,
2013,  C.P. Cavafy PAINTED, B & M Theocharakis Foundation, Athens
2013, Medium as Narrative, CAMP,Athens
2013, «Ghetto Palm», Salon de bricolage, Athens (Solo exhibition)
2011, AlienSpecies, DiatoposGallery, Nicosia, (solo exhibition)
2011, Little gardens of happiness, TAF, Athens
2011, On the Balcony, REMAP 3, Athens
2011, THE LUMINOUS INTERVAL,Guggenheim Bilbao
2010, Ailanthus Altissima, Zina Athanassiadou Gallery, Thessaloniki (solo exhibition)

2010,  BYOB, Kunsthalle Athena
2010, THE ARK,Old seeds for new cultures, Pavillion of Greece, 12th Biennale International Architecture Exhibition, La Biennale di Venezia

2010, Oasis, Skyronio Museum Polychronopoulos, Attica
2010, Mixed & Mastered, Centre for Visual Introspection, Bucharest
2010, Space is the place, About, Athens
2010, Celebration, Alex Myxlona Museum, Macedonian Museumof Contemporary Art, Athens
2010, Belle Vu, Gallery Ileana Tounta, Athens
2009, The Room/ Fragility makesme special, a.antonopoulou.art, Athens (solo exhibition)

2009, Expanded Ecologies/ Perespectives in a Time of Emergency, National Museum of Contemporary Art (EMST), Athens, Greece
2009, Smoke, REMAP 2, Iassonos Str. 47, Athens
2009, EUROMA, "CINE-ROM"- Aliveri, Volos, Grecce
2008, Transexperiences, Greece 2008», 798 Space, Beijing
2008,   Exploring cultural means to combat global homogenization, Foukoutake Hall, Tokyo University, Japan
2008, Games with out frontiers, Zouboulakis Gallery, Athens
2007, Tags, Porfirogenio Foundation, Agria, Volos (solo exhibition)
2007, Ιn the present tense, National Museum of Contemporary Art (EMST), Athens, Greece
2007, Virginia, Old Tobacco House, Volos
2006, MASQUERADES/ femininity, masculinity and other certainties, State Museum of Contemporary Art, Thessalonikι
2006, ON: THE CONTEMPORARY AND THE MODERN IN EUROPEAN AND JAPANESE CULTURE, Tokyo,Shizuoka Performing Arts, Thetre (S.P.A.C.)                
2006, Dialogues, Macedonian Museumof Contemporary Art
2006, What remains is future, Arssakeio, Patra
2006, An outing, Leonidas Beltsios Collection, Milos, Trikala
2006, Tattoo My Art, a.antonopoulou.art, Athens
2006, Positive Charge, State Museum of Contemporary Art, Thessalonikι
2006, PSYCOOGLEARTH/ shallows nest maker, a.antonopoulou.art, Athens (Solo exhibition)
2005, BIDAMacedonian Museum of Contemporary Art, Thessaloniki
2005, Dreamscapes,"De Chirico" Art Centre, Volos
2005, Going Public' 05/ communites & territories, Larissa Contemporary Art Centre,Larissa
2005, Old People's home, Historical Archives - Museum Hydra, Hydra
2005, Lost in Translation, Hellenic American Union
2005, Visions, AthensImperial Hotel, Athens
2004, 38th Parallel – the Horizon, Skironio Museum Polychronopoulos, Attica
2004, The Sneeze 80x80, Gazon Rouge, Athens
2004, Body Works, Art Center of Municipality of Nicosia, Cyprus
2004, Athina: Metropolis by mistake, Bios, Athens
2004, BREAKTHROUGH!, Greece 2004, Contemporary Perspectives in the Visual Arts, Alcala, Madrid
2003, Bureaucracy Home Office of Greece, Athens
2003, ϋber MENSCHEN, ACC Gallery, Weimar/Germany, Church S. Paolo, Modena – Civica Gallery, Sassuolo, Italy
2003, Quite almost RADAR, "Lab" Gallery, Athens
2003, Free Transit(?), Zappion Megaron, For the Hellenic Presidency of the EU, Athens
2003, GreeceNow, Room#1107, New York, curator Dimitrios Antonistsis
2003, MacedonianMuseum of Contemporary Art, Thessaloniki
2002, Digi 01, Digital Art Festival, Epi Kolono, Athens
2002, Sketching out Today, Tomorrow, Yesterday, E. Averoff Museum, Metsovo
1992,  «6th Biennale of Mediterranean Young Artists», Valencia, Spain