ARCHITECTURAL DESIGN ΙV-VI C: LOCAL HISTORY CENTER AT VOLOS
Cognitive Fields (2005/36/EU): Architectural Design, Human Needs and the Built Environment, Social Factors in Design, Physical Issues.
Generic Competences: Ability to make reasoned decisions, Ability to work in a team, Ability to design and manage projects, Ability to interact constructively with others regardless of background and culture and respecting diversity, Ability to promote free, creative and inductive thinking.
CORNERSTONE: Local History center at Volos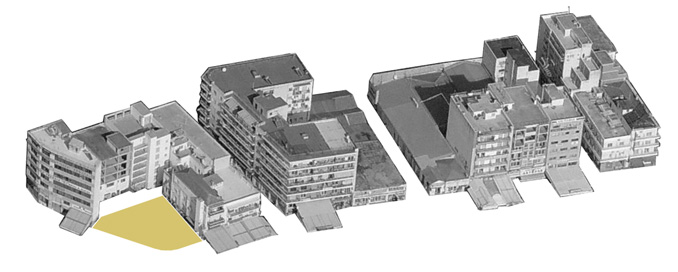 LEARNING OUTCOMES
[Comprehension, Application, Analysis, Synthesis]
The studio course is dealing with the creation of an urban public building. The purpose is a deepest understanding of design decision issues and the familiarization with the most common architectural condition of the Greek city, that is, with the compact, in row, building volume.
SUBJECT
The design task for this semester is a 5-storey building on a corner plot at the western boundary of the coastal front of Volos. Its privileged location makes it suitable to receive a function with particular symbolic charge such as exploring, preserving and promoting local history.

The proposed MAGNESIA HISTORY CENTER will accommodate the "Volos Municipal History and Documentation Center" and the "Magnesia County Archives" (annex to the General State Archives). It will also host meetings and events of independent groups such as the "Volos Oral History Group" and the "National Resistance History and Memory Association". In addition, the building will serve as a hub for local solidarity, social economy or ecology people initiatives.

Overall, the building will be open to the public, and will host cultural and social activities, in addition to workplaces and archive spaces. Its purpose is to activate the historical past as creative parameter of the present. The building program will include administration offices, research offices, archive storage, library, assembly room, seminar room, exhibition/lecture hall, canteen/café.

The design of the MAGNESIA HISTORY CENTER should exploit the potential of itslocationand create a new landmark on the coastal front of Volos. The proposed building will coordinate with the urban features of urban fabric and incorporate in contemporary architectural expression echoes and motifs from the past of coastal Volos' landscape.
ASSESSMENT
Students must correspond fully to the challenges of the course  through their committed studio work and their design output.
The conception of a new building fitting at the urban context, its functional performance, its morphological and organizational clarity are the design requirements of the studio.