ARCHITECTURAL DESIGN ΙV-VI B: Hybrid Ecologies
Cognitive Fields (2005/36/EU): Architectural Design, Fine Arts, Human Needs and the Built Environment, Social Factors in Design, Design Brief, Building Technology.
Generic Competences: Ability to work autonomously, Ability to work in a team, Ability to interact constructively with others regardless of background and culture and respecting diversity, Commitment to conservation of the environment, Ability to promote free, creative and inductive thinking.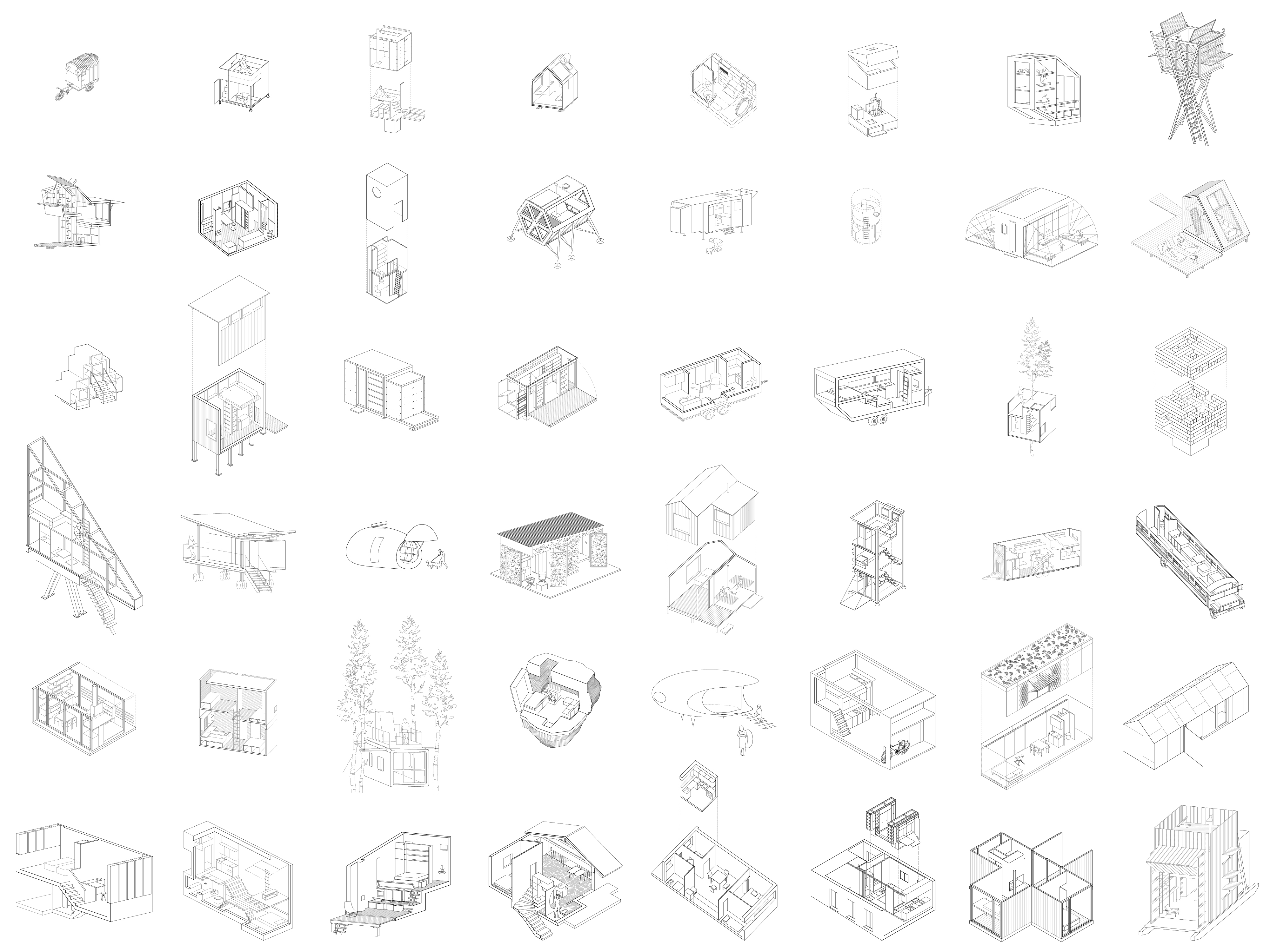 LEARNING OUTCOMES
[Knowledge, Application, Synthesis, Evaluation]
Upon successful completion of the course students:
Understand the social role of architecture as a spatial and material practice as well as the economic conditions that determine its production.
Become familiar with design methods related to the reuse and modification of existing structures, participation and recycling.
Analyze and evaluate timeless and contemporary examples of minimum dwelling from around the world.
Practice architectural design exploring the small scale of the house (1/20) and the scale of the residential complex (1/200).
Develop skills in model building by understanding the role of the prototype as a generative medium of architectural thinking.
SUBJECT
Downsizing and living small have become increasingly popular modes of inhabitation in the past decade. Reinforced by 'cults of decluttering' and 'minimalist lifestyles' they demonstrate a radical reduction of domestic space to the absolute minimum.Minimalist living can be recorded in multiple architectural versions: cabins, capsules, caravans, cells, compact apartments, containers, emergency shelters, home-offices, motor homes and tree houses.
In this course the minimum dwelling is architecturally explored as an individual case of meticulous detailed design as well as a unit of a small residential complex. The site of the study is the formerly thriving and now abandoned Thermais Camping on the beach of Agia Triada in Thessaloniki, designed by the team of architects: Vourekas-Sakellariou-Vassiliadis and inaugurated in 1960.
ASSESSMENT
For the successful completion of the course students produce an individual or group project. Students' evaluation assesses both their participation in class as well as the quality of their project.
COMPULSORY BIBLIOGRAPHY
Βυζοβίτη, Σ. (2017) Μικροκατοικία-'Ατλαντας για Αρχιτέκτονες, University Studio Press
(σύγγραμμα https://service.eudoxus.gr/search/#a/id:68372928/0)
INDICATIVE BIBLIOGRAPHY
Arieff, A., Burkhart, B. (2002) Prefab, Salt Lake City: Gibbs Smith Publisher.
Jodidio, P. (2017) Nomadic Homes. Architecture on the move, Cologne: TASCHEN.
Leckart, S., Klein, Z. (2015) Cabin Porn : Inspiration for Your Quiet Place Somewhere, London : Penguin Books Ltd.
Roke, R. (2016) Nanotecture: Tiny Built Things, London: Phaidon.
Teige, Κ. (1932) (trans) Dluhosch, E. (2005) The Minimum Dwelling, Cambridge MA: MIT Press.
e-CLASS LINK