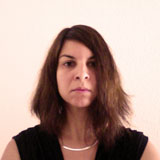 Grigoriadou Magdalini / Postdoctoral Researcher
DISEMBODY. AUGMENTED CORPOREAL EXPERIENCES IN THE HYPER-TECTONIC ENVIRONMENT OF A DIGITAL PLATFORM
Biography
Magdalini Grigoriadou is a graduated architect (2007) of the Aristotle University of Thessaloniki (Greece), with a Master's Degree (2008) in "Digital Communication and Multimedia in Architectural Project", and holds a PhD (2014) from the Polytechnic University of Madrid. Her thesis research has focused on the concept of the imaginary, collective or personal, through the evolution of the notions of space, time and body. In her postdoctoral research, (2016-2017) "Sparágmata: incoherent fragments of vulnerable bodies in a multidimensional city", in Mexico, the main objective has been to explore the experience of nostos/nostalgia and otherness within the contemporary conception of the fragmented body.
She is currently a Post-Doctoral Research Associate at the Laboratory of Environmental Communication and Environmental Documentation where she is developing the project DISEMBODY.
Research interests
DISEMBODY project aims to combine aspects of contemporary architectural research into an experimentation on new processes of design; intents to associate digital architectural design with corporeal necessities-conditions, regarding them as psychosocial and psychosomatic patterns, either material, anatomical o biochemical, through lately neuroscience ́s progresses. The expendable meta-body is inscribed in the assimilation of the partiality, in the contexts of intimacy, proximity and perversity. The corporeal performativity of architecture and the personalized implements in the post-human conditions are examined in the new hybrid proximities between both digital-physical world and tectonics and non-tectonics communication on the architectural design.
e-mail
magdalena.grigoriadou

gmail.com