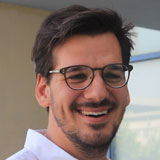 Papandreou Vagelis / Phd candidate
FOR A REVIEW OF THE FUNCTIONING OF THE SENSES IN ARCHITECTURE. MATERIALITY AND WRITING AS TOOLS FOR THE CREATION OF LANGUAGE ARCHITECTURE. THE WORK OF DIMITRIS AND SUZANA ANTONAKAKIS
Biography
 Vagelis Papandreou (1984) was born in Athens. He attained the degree of Product and System Design Engineer (2009) at University of Aegean and earned a Master's Degree in "Architectural Design" at the same University entitled "Architectural Plan" (2011). After that, he fulfilled his studies in Architecture School at University of Thessaly (2016) and now he is a PhD candidate at the same university. He has co-curated the bibliographic and audiovisual material in the frameworkof the conference «Atelier 66. Dimitris and Suzanne Antonakaki» at the Benaki Museum, while recently won a distinction in the Cultural Products Design Competition of the Archeological Receipts Fund. He participates in speeches while working as an architect with other architectural teams.
Research interests
 The present PhD dissertation proposal aims at exploring the connection of architecture with the representational mechanisms established by modernity. Publications, films and movies, discussions, speeches, historiography records act as ways the building is communicated. The building is not meant to be only a building, a structural substance, but also the way in which is represented. In the case of Atelier 66, Dimitris and Suzana Antonakakis, the theoretical approach to their discourse on architecture is a constitutive part of their architecture, which sometimes works in parallel, sometimes precedes and sometimes overlaps their architectural practice. Architecture is thus constituted as an object of language and habitation. Their architecture attempts a revision of the aesthetic and sensory regimes of modernity.
The relationships between vision, writing, reading and material identity and the combination of the sense of vision based on the model of the representation of architecture as an image will be examined with a different tradition of modernity, that organizes in an hierarchy and blends the senses differently, touch and movement. The tangible sensory experience will also be explored with our perceptions of habitation and space, rearranging the concept of architecture with the sensory status of the five senses. In this sense, the references of Dimitris and Suzana Antonakakis to folk tradition as well as to modernity and the function of memory in the "multi-sensory" architectural experience will be analyzed, which in this way acquires the ability to activate multiple periods of incarnation and different forms of materiality.
e-mail
vagelispapandreou

gmail.com