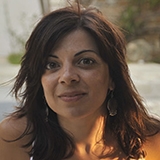 Maria Vidali / Ph.D. Dept. Arch
THE RURAL LANDSCAPE OF TINOS THROUGH THE HUMAN'S ACTIVITIES.
Biography
Maria Vidali is an architect working in Athens. She studied architecture at the Universities of Portsmouth and Kingston, UK and she completed an MPhil degree in History and Philosophy of Architecture at the University of Cambridge. In 2010 her research work Village and Land. The outlying chapels on the island of Tinos, was published. Since 2011, she has been a PhD candidate at Thessaly University, studying the rural landscape of Tinos through the human's activities. Since October 2014 she is visiting Mc Gill University in Montreal as a research trainee.
e-mail
vidalimaria

gmail.com