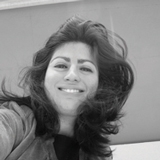 Alexiadou Sotiria / Phd candidate
URBAN RECONSTRUCTION AFTER WORLD WAR II. URBAN AND ARCHITECTURE DEVELOPMENT OF THESSALONIKI DURING THE PERIOD 1947-1974
Biography
Sotiria holds an Architect-Engineer Diploma from University of Thessaly (2007) and the MSc. in Urban Strategies from Universität für Angewandte Kunst of Vienna (2010). Currently, she is a PhD candidate at the department of Architecture in University of Thessaly.
She has worked as a teaching assistant on Architectural Design at the Department of Architecture,University of Cyprus in 2011, and in the period 2011-2013 at the Department of Architecture, University of Thessaly on elective courses. She was part of the teaching team at Architectural and Urban Design Workshops organized by the University of Applied Arts of Vienna (2014) and the team Urban Transcripts (2013,2014). As an architect she has collaborated in architectural competitions and in museological and museographical curation of exhibitions.
Her research interests focus on the upgrading issues of architecture in the urban context, the transformation and evolution of urban features of the post-war cities through urban strategies and architectural typologies, and on the digital mechanisms of visualizing research data in the field of architecture.
 
Research interests
This research is focusing on the documentation of the architectural creation during 1947-1974, as a linear development of typology and morphology in the frame of the great urban development of Thessaloniki. It will examine the correlation between the public image of the city and the burst of the private sector participation in constructions, concerning the politico- economical situation and the geopolitical strategies of the Balkans.
The methodology will be based on primary and secondary sources. The fieldwork in the city is necessary in order to record and document the current situation of the building stock of the period
e-mail
sosoalex

gmail.com