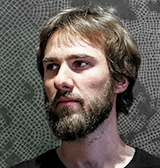 Moris Petros / Phd candidate
THE INFRASTRUCTURE OF THE ATHENIAN METRO AS CULTURAL INTERFACE: INTERPRETATIONS OF MEMORY AND PROGRESS IN THE COMBINED FIELD OF ART, ARCHITECTURE AND SOCIAL THEORY.
Biography
Petros Moris (1986) has studied in the Athens School of Fine Arts and has received an MFA in Curating from the Goldsmiths University, London. He is part of the artist collective KERNEL and the curatorial projects SIM and Radical Reading. He has presented his work in solo shows at DUVE Berlin, Project Native Informant, OMMU Distribution and Kappatos Gallery and in group shows in institutions including DESTE, the National Museum of Athens, and the Athens Biennial. He has given lectures on his work at the ICA, Circuits and Currents, the National and Kapodistrian University and the National Hellenic Research Foundation.
Research interests
 The dissertation studies the Athenian Subway (Metro) as a multifaceted cultural infrastructure, a spatial construction and a special type of public space that is understood as a synthesis between development project, public transport network, ongoing archeological excavation, museological mechanism and contemporary art collection. These different functions provide a context of investigation that aims at the analysis of the specific character of this subterranean infrastructure through the means of cultural theory, as well as its promotion to an exemplary case study for the combined development of issues in the field of urban development, of archaeology, of spatial sociology, of design politics, of art curation and institutional critique. Looked through its special restrictions, its simultaneous confrontational and revealing multiplicity of its character, the Athenian Metro is finally investigated as a system that produced dialectical relationships between institutional, theoretical and sociological interpretations of the concepts of memory and progress. 
e-mail
ptrs.moris

gmail.com