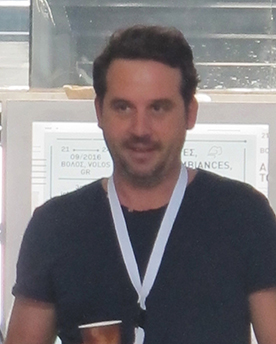 Remy Nicolas / Assistant Professor
BUILDING TECHNOLOGIES - ACOUSTICS - SOUNDSCAPES STUDIES
Biography
Nicolas REMY is a graduate physics, DEA (Diplôme d'études approfondies) and Ph.D. from the Polytechnic School of Nantes with application to architecture, and he realises free lance studies in  acoustics and lighting design. He was Maitre de Conference of the Higher Education Schools of Architecture in France and he has taught in Grenoble (2003-2017) and Marseilles (2006-2008). From October 2008, he's teaching at the Department of Architecture of the University of Thessaly in Volos.  He specializes in roomacoustics in environmental acoustics, building acoustics and soundscape studies.
Research interests
 Nicolas REMY is a also member of the Research Centre on Sonic Space and the Urban Environment (CRESSON, CNRS, ENS School of Architecture at Grenoble, France) and deals with the concept of ambience as a a tool and as a method for architectural design. More specifically, his work on the relationship between physics, perception theories and architecture. He has presented his work in several International conferences (France, Greece, England, Italy, Sweden, Portugal, Chine.  In 2016 he co-organized the 4th International Conference on Atmospheres and since 2018 she is Co-Director of the Ambiances International Network (1000+ members, 33+ research teams)
Courses in current academic year
Acoustic Design
Sound atmospheres and closed spaces

e-mail
nremy

arch.uth.gr
Telephone
6079756973
Research programs
2011 - 2013, European Acoustic Heritage


Position: Coordinator
Funding Body: Cultural Program of the European Union

2010 - 2012, ACOUSTIC CONFORT AND ARCHITECTURAL TYPOLOGY
Position: Scientific coordinator
Funding Body: Research Comity, Thessaly University

Architectural work
2012, Acoustic Study for elementary school of Nea Ionia, Magnesia
2012, Acoustic study for the Musical College of Volos, Magnesia
2012, Acoustic Study for the new building of the Department Computer and telecommunications networks, Thessaly University
Monographs-Books
 Meri Kytö, Nicolas Remy & Heikki Uimonen (2012), European Acoustic Heritage, Publication realised in the frame of the European funded program of Culure,  Publishers: Tampere: Tampere University of Applied Sciences (TAMK) & Grenoble: CRESSON 2012.
Meetings-Conferences
2012,  Remy Nicolas (2012), invited talk in the two days of discussions and experiments around the topic of the voices, Friday, the 9th and Saturday the 10th of March, 2012, Voices, Theatre Embros in Athens.
2012,  Remy, N. (2012), Listening paths and architectural design, Department of Architecture, University of Thessaly, at the World Forum for Acoustic Ecology (WFAE), Corfu : Greece, 3-7 october 2011.
2011,   Remy, N. (2011), Changing Soundscapes, conference during the European Workshop «Changing Landscape », Volos, 2-16th of June 2011.