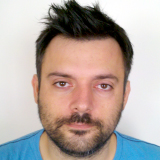 Maniatis Konstantinos / Phd candidate
VOLOS 1881-1930 CITY AND ARCHITECTURE
Biography
 BIO:
I was born in Volos, since 2004 I am working in the construction – studier field as Civil Engineer of technological education. In 2013 I graduated from the department of Architecture, University of Thessaly and keep my own office in Volos.  Since 2014 I assistant in the courses of professor Colonas in department of Architecture, Greek and world history of Architecture, museology and integration problems of modern Greek architecture, also I am a PhD candidate on "Volos 1881-1930 City and Architecture." I speak English and Spanish; I have participated in architectural competitions and conferences and by 2015 attend history courses in Archaeology Department of History and Social Anthropology, University of Thessaly.
Research interests
The doctoral study will provide, how to create the new city of Volos, the exploration of the historical, political and socio-economic context, a common way to produce remarkable architectural work.
As a research field is defined, west Ottoman Castle of Golos, east Anavros river, south the coastline and northern today Analipseos Street.
As a starting point is defined as the liberation of the city by joining the Greek state in 1881 as the prevalence of the modern architectural rythm in the late 30s.
 
e-mail
maniatiskostis

yahoo.gr