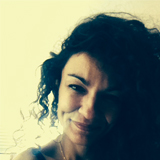 Zavitsanou Avrokomi / Phd candidate
MANAGING THE IMMATERIAL: DIGITAL ART PRESERVATION TOOLS AND PRACTICES.
Biography
Avrokomi Zavitsanou is a certified architect from the University of Thessaly in Greece. She also holds a degree in Conservation of Antiquities and Works of Art from the A.T.E.I. in Athens and has completed a Master's degree in Cultural Managment at Panteion University, Athens. Currently she is a Phd Candidate at the Department of Architecture, University of Thessaly and her research interests focus on Digital Cultural Heritage Preservation and Management. She has received a scholarship from I.K.Y. (State Scholarships Foundation) for her both post-graduate and doctoral studies.
Research interests
 The aim of this research project is to produce methodological and strategic tools for the preservation of digital art and installations. Traditional preservation practices, which focus on the material restoration of a cultural object, prove to be insufficient for digital artworks, which are merely described as an experience, a process, or a phenomenon. The research focuses on the management of the immaterial aspects of these artworks through the exploration of alternative as well as versatile forms and preservation practices.
e-mail
av.zavitsanou

gmail.com