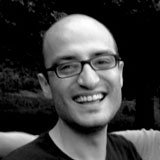 Theodoropoulos Chrisostomos / Visiting Professor
Biography
Chrysostomos Theodoropoulos works at the intersection of architecture, preservation and building technology. He is currently teaching a design studio at the University of Thessaly, and a building technology studio at the University of Patras. 
He has practiced architecture in Athens, Greece and New York. He is a founding partner of SOUTH. He has also collaborated on digital cultural heritage projects with the Hellenic Ministry of Culture and the National Kapodistrian University of Athens.
In 2012 he received the DOMES prize for the best first building of a young architect, for the project Towerhouse I. Other awards include an urban kiosk (City of Athens), the Roosevelt cultural hub (AIA New York) and prototype, rural housing in Pelloponnese (HELLASCO). In 2016 his project 'The raft, the envelope and the garden' was presented in the Greek Pavilion at the Venice Architecture Bienalle.
He received an Advanced Certificate in Conservation of Historic Buildings and Archaeological Sites from Columbia University, and a M.Sc. in Historic Preservation and a Diploma in Architecture from the National Technical University of Athens.
e-mail
chrysostomost

gmail.com